Vom 30. Juli bis 4. August 2017 fand in Lutherstadt Wittenberg der 13. Internationale Kongress für Lutherforschung statt. Der Kongress widmete sich mit dem Thema "1517. Luther zwischen Tradition und Erneuerung" den Anfängen der Reformation.
Die Plenarvorträge fanden im Stadthaus Wittenberg statt, die Seminare und Kurzvorstellungen/Short presentations in der Stiftung LEUCOREA, Wittenberg College, in der Cranach-Herberge, im Evangelischen Predigerseminar und im Bugenhagenhaus. Alle Tagungsorte sind nur fünf bis zehn Minuten Fußweg voneinander entfernt.
The plenary sessions took place at the Stadthaus in Wittenberg. For the seminars and the short presentations rooms were provided at the LEUCOREA Foundation, at Wittenberg College, Cranach-Herberge, Evangelisches Predigerseminar and Bugenhagenhaus. All conference places are located in a very close area and are accessibly by foot in five to ten minutes.
13. Internationaler Kongress für Lutherforschung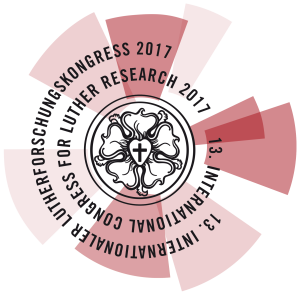 30. Juli bis 4. August 2017
contact: congress[at]2017.martinluther.de
⇒ Rahmenprogramm | Framework program
⇒ Wochenendreise | Weekend trip
Ort | Location