Vom 30. Juli bis 4. August 2017 findet in Lutherstadt Wittenberg der 13. Internationale Kongress für Lutherforschung statt. Der Kongress widmet sich mit dem Thema "1517. Luther zwischen Tradition und Erneuerung" den Anfängen der Reformation.
Die Jahreszahl dient dabei als ein Fokus, innerhalb dessen vorherige Entwicklungen und weitere Wirkungen in den Blick genommen werden sollen. Selbstverständlich werden die Thesen gegen den Ablass vom 31. Oktober 1517 eingehend gewürdigt, aber auch andere Aspekte: Die Wurzeln Luthers in der Bibel und der Frömmigkeit des späten Mittelalters ebenso wie die Entfaltung der entstehenden neuen Theologie in Predigt und Seelsorge. Neben der historischen Aufarbeitung des Gewesenen soll auch die Frage nach dem heutigen Umgang mit Luther und Impulsen für die Zukunft Gegenstand der Diskussion sein.
Die Arbeitsform besteht aus Plenarvorträgen einerseits und kleineren arbeitsintensiven Seminaren andererseits. Wie üblich besteht auch die Möglichkeit, eigene wissenschaftliche Projekte zu präsentieren.
The Thirteenth International Congress for Luther Research will take place in Lutherstadt Wittenberg, Germany, from July 30 to August 4, 2017.  The Congress will explore the beginnings of the Reformation with the theme, "1517. Luther between Tradition and Renewal."  1517 provides a focus within which the late medieval context and the ongoing impact of Luther will be considered.  Clearly, Luther's 95 Theses (31. October 1517) will be examined in detail as well as other aspects, such as the roots of Luther's insights in the Bible and in the piety of the late middle ages as well as the unfolding of his new theology in sermon and pastoral work.  Current ways of understanding Luther and factors that will stimulate future interpretation will be discussed in addition to historical matters. 
The Congress will include plenary addresses as well as intensive, sharply-focused seminars.  As is customary, participants will have opportunity to give short presentations on their own research projects.
13. Internationaler Kongress für Lutherforschung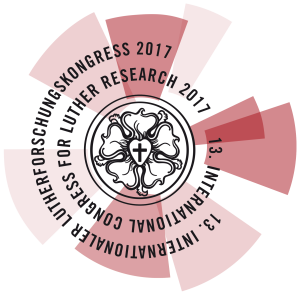 30. Juli bis 4. August 2017
contact: congress[at]2017.martinluther.de
Einladung | Invitation
⇒ Rahmenprogramm | Framework program
⇒ Wochenendreise | Weekend trip